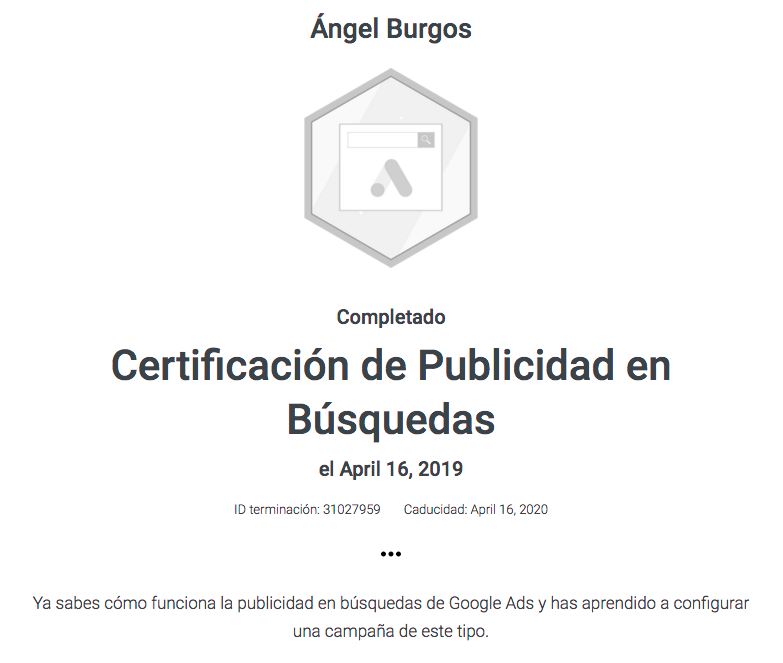 Digital Marketing Specialist
SEO, SEM, WE ARE
why choose for digital marketing campaign?
As you know, Google recently recognized us after having passed several tests skills through a certificate suitable for creating digital marketing campaigns with Google.
And just today we have just received a new certification after another new aptitude test, with a 98% hit!!!
We have created many websites and worked with companies of all kinds, like yours, to create and publish digital campaigns implemented several new interesting improvements.
In the following link you can see all our certifications:
Recent regulatory changes have affected companies in all sectors, I can talk to them about some initiatives that I have carried out in different companies, in order to adapt new strategies to the new guidelines, with últiles recommendations to help overcome all obstacles l @ s who wish.
Everything is based on creating intelligent campaigns for your customers to see the right ad in the right context. This allows to reach the most valuable customers and connect with ell @ s anywhere and from any device.
One of the reasons why we are so successful with companies run by their owners is that we help them establish a proper budget for your business and objectives.
We can track our analysis. The advantage is that the measuring results, we can easily know whether investing in marketing provides good results and that is repeated campaigns have been more successful, so that companies continue to grow online.
If you want to talk about your current marketing plan and are open to suggestions, we can offer some initial ideas that have produced good results startups.
Contact us at the following Phone: +34 699 692 047